Zooper Star
Beverlee worked in zoos for four years! She taught kids and adults about animals and conservation. In that time she worked in close proximity with skinks, snakes, toads, red tailed hawks, tawny frogmouths, gorillas, and giraffes. Here's Beverlee with some elephant friends Little Mac and Suzie!
Improv!
Beverlee has been doing improv since high school where she was fortunate enough to be taught by Bill Steinkellner (Cheers, Groundlings). In college she helped run an improv team and participated in the USC based improv festival FRACAS. There, she took workshops on improv technique and genre improv including improvised musicals and Shakespearean improv. She is in advanced study at Upright Citizens Brigade and has studied under Deb Tarica, Casey Feigh, Jessica Eason, and Billy Merritt! Catch her performing with her Mess Hall team Powerline!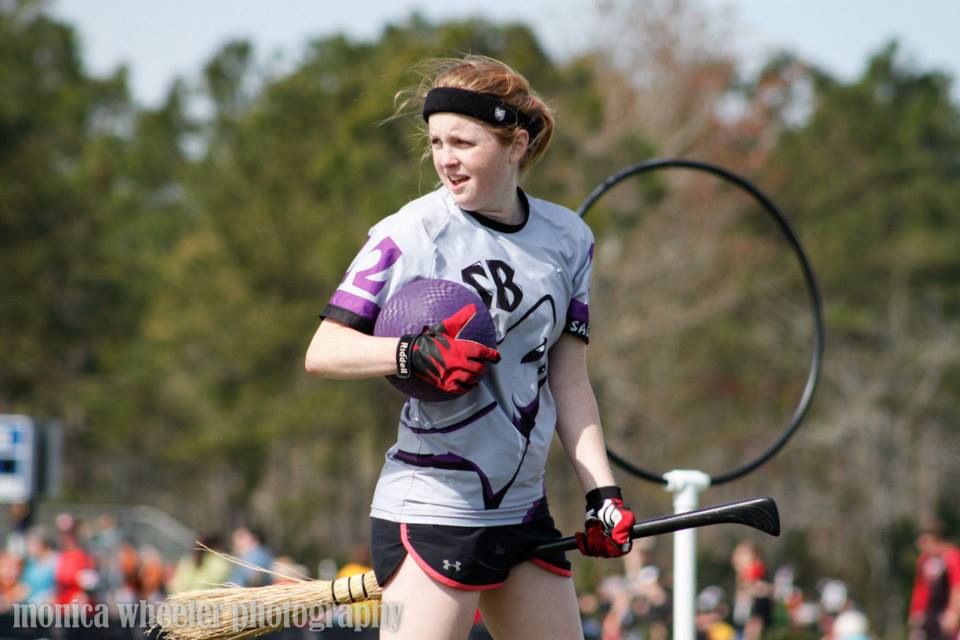 Quidditch...for Real
Beverlee played the full-contact, co-ed, and absolutely real sport of quidditch, inspired by the fantasy sport in Harry Potter, with the United States Quidditch Association. She competed nationally with the Santa Barbara Blacktips and met and practiced with teams in Edinburgh and Paris while traveling abroad. She began her quidditch career as a chaser, a more contact-heavy position, and then fell in love with playing beater, a more strategic position. She attends practices from time to time and can be seen playing in the occasional fantasy tournament in southern California.
Photo courtesy Monica Wheeler Photography
Shakespeare
From weekly play readings (complete with swords) at her house, to seeing every production she can get to, Beverlee loves Shakespeare. She had the opportunity to study Shakespearean acting at the British American Drama Academy's summer program in Oxford England. In Los Angeles, she fed her passion for Shakespeare by creating Shaky Understanding, a podcast she co-hosts with Allison Powell, where they analyze Shakespeare plays with guest characters from the plays themselves.
Line Dancing
Native Californians aren't known for their country dancing but none the less, Beverlee found herself involved with an enthusiastic line dancing community from her college years and on! She is an expert line dancer, two-stepper, and swing dancer and does so whenever she can. Here she is line dancing in front of the White House at the US Capitol!
Animal Hopsital
Beverlee had the wonderful opportunity to work at an animal hospital for a year. She had hands on experience with cats, dogs, chickens, and the occasional pelican. Here she is with an especially squirrely (though dog shaped) patient!